About Evelin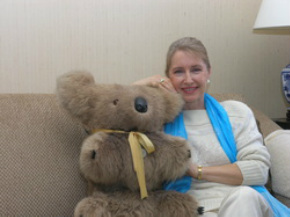 Thank you for taking the time to visit my website. Please read on and get to know me.

Like you, my life has been filled with changes. Many were exciting and fulfilling while others were scary and not what I would ever have wanted for myself. I was very young when the first major change involved my family migrating from Austria to Australia, knowing virtually nothing about the country nor a word of the language. My parents were definitely courageous and adventurous. Then as a young adult I lived and worked overseas (Hong Kong and Europe) for a while before another major change when I relocated to the United States for love and marriage. So when it comes to change I have something of a global perspective.

In the ensuing years I have worked with hundreds of clients wishing to develop ways to cope and work creatively with change in areas such as personal self development, sports performance improvement, retirement, freedom from fears and anxieties, career transition, improved health and weight management.

As a Naturopathic Practitioner and Certified Hypnotherapist with a B.Sc. in Psychology, I combine the skills of a wellness advisor, educator and consultant to inspire you to realize your full potential, build a more positive self-image, better manage life stressors and gain a greater degree of contentment. My one-on-coaching focuses on partnering with you to identify your personal and professional goals and design an individualized program.

I am a member of the National Speakers' Association and a Certified Facilitator of The Passion Test™ and Conflict Dynamics Profile®. My clients have included government agencies, law firms, non-profit organizations and associations.

In addition to lecturing and coaching, I spent almost 17 years as a consultant to NASA Headquarters. During this time I benchmarked, designed and implemented a Work/Life Program, one of the first such programs in the Federal Government. I also implemented the first monthly newsletter offering employees tools, tips and techniques for more effectively handling the stresses in life.

As part of my commitment to spreading the important message of being proactive about improving one's quality of life, I've authored numerous articles for publications such as NASA's Work/Life Navigator, Washington Woman, The Medical News, The Energy Club's monthly newsletter and the newsletter of Australians in Washington Association.

If you're ready to get unstuck and eliminate such challenges as "Passion Deficit Disorder", "Restless Life Syndrome", "Hamster Wheel Disease", "Retirement Blues Misery" and "Minimal Wellness Affliction", I'd be delighted to help you "upgrade your inner human software"!

---

Change Happens from the Inside Out
… It's Easier Than You Think!

What my Clients are Saying

EFT has truly changed my life and with Evelin as my guide, I have been able to uncover some of the subconscious thoughts that were keeping me from realizing my true potential. Through her insightful questions and intuitive guidance, I have successfully been able to make connections between past incidents and current thoughts and behaviors. Her insights have been invaluable!

Evelin cares about her clients and is invested in their well-being. She has a very non-judgmental, caring style that fosters deep self-exploration and positive outcomes. I would highly recommend Evelin and EFT to anyone who is looking to make a significant transition in their lives!

Debbie Augustin, Ph.D
Consultant/Program Manager

I'm writing to tell you about the amazing results of yesterday's EFT session with you. I don't know how you figured out what we should tap on, considering the brief outline of my problem that I gave you on the phone, but somehow what we tapped on worked. I felt like a different person when we got off the phone, and after a short nap I went to the kitchen and ate bread (3 pieces!) and didn't get bloated or dizzy. Thoroughly enjoyed myself. Then, in the middle of the night I woke up and much to my amazement I didn't have a stomach ache!!!

As you might remember, I have not been able to eat grain of any kind for many years. And then this morning, I really loved eating a bowl of oatmeal (yeah!) and still no reaction! This is too good to be true, but I know you said it will last. I am eternally grateful and will tell all my friends about you.

Thank you so much, and thank you to EFT!

Sheryl Clarke, Marketing Director

Evelin fills the world with deep compassion, a loving spirit, and an amazing gift for getting to the heart of the matter. Her calm, gentle voice soothes away your fears and her extraordinary knowledge of numerous healing modalities takes your life to a new level of power, passion, and purpose. Her dedication to helping you discover your own gifts, your own heart, is an inspiration to all whose paths she shares. Make sure you're one of those who step into the cocoon of her loving presence and come away better for the experience.

Jerilynne Knight, Speaker, Author, Coach
www.onemillionacts.com
www.passionpurposespirit.com